While living in the city of Sanford, FL is enjoyable and a great place for families, it comes with a set of indoor environmental challenges. One of them is the potential for mold growth in homes.
While the humid Floridian air might be acceptable during a day out at Lake Monroe, it can inadvertently create the perfect breeding ground for mold in concealed corners of your residence.
Your home is not just a building, it's a space filled with memories, laughter, and shared moments. Maintaining a healthy indoor environment is important for the well-being of your loved ones.
At FSG Inspections, we are dedicated to providing world-class mold inspection services in Sanford FL. We help identify mold problems so you can minimize harmful mold exposures over time.
In order to deliver optimal outcomes, we employ an extensive selection of techniques for mold inspection and testing.
Visual inspections
Air sample tests
Surface sample tests
Bulk sample tests
Dust sample tests
Chemical tests (mycotoxin and MVOCs)
Why is mold inspection so crucial for Sanford homeowners?
Mold, if unchecked, not only damages the structural integrity of your home but can also cause serious health risks, including respiratory issues, allergies, and more. Our expert mold inspectors in Sanford FL, are equipped with years of training and experience and latest tools that can help identify water damage and mold problems ensuring a detailed mold inspection.
Using advanced thermal imaging, we can spot potential moisture issues that are often precursors to mold growth. While we are expert environmental consultants at detecting mold, we take pride in not offering mold remediation, because that would be a conflict of interests and against the law!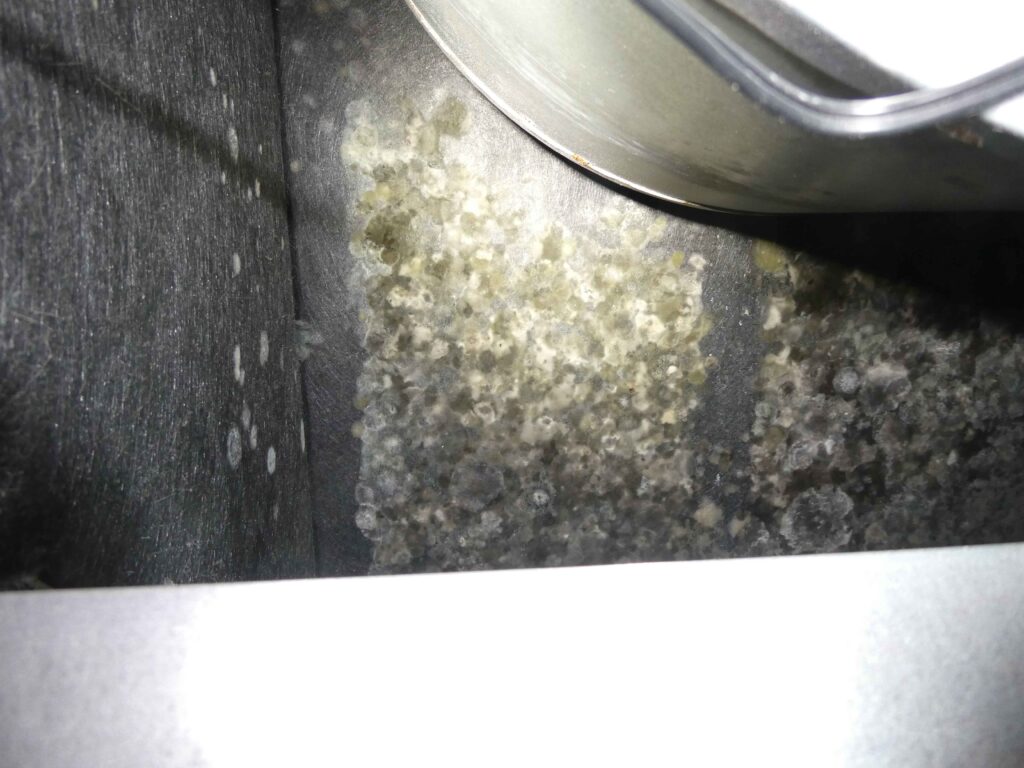 In addition to our non-destructive field investigation for mold, we can provide additional services such as:
Destructive investigation
Mycotoxin testing (dust)
Volatile Organic Compound (VOC) testing
Microbial Volatile Organic Compound (MVOC) testing
Fungal testing (Non-culturable direct microscopy analysis, Culturable direct microscopy analysis, ERMI, HERTSMI-2, and MSQPCR Water Damage Panel 36)
Bacteria testing
Chemical testing
Pet allergen testing
Pollen testing
Particle counts
Particle analysis
Dust analysis
Tobacco smoke analysis
Why choose FSG Inspection for mold inspection and testing in Sanford?
1. Result Oriented Approach: We don't just spot check, our team conducts a thorough mold inspection and mold testing based on site needs and client desires in Sanford, understanding your specific concerns, and then delving deep into potential problem areas. From basements to attics we can do it.
2. Educative Inspection: We believe an informed homeowner is an empowered one. As we navigate through your space we document our findings. We then take the time to explain our findings, ensuring you understand the root causes of mold growth in your home.
3. Unbiased Reporting: Given that we don't provide mold remediation, our sole focus is on mold inspection and testing. This ensures the results you receive are unbiased and transparent, focused solely on the safeguarding your home and health.
Call us today at 407-721-0594 to schedule a mold inspection and to make sure your home continues to be the haven it was always intended to be.
Indoor Air Quality Testing Sanford FL
Pollutants in the indoor air can substantially affect people where they live and work. FSG Inspections specializes in indoor air quality testing ensuring people in homes, businesses, and government buildings in Sanford understand the condition of their indoor environments so they can take steps towards maintaining the best indoor air quality and minimizing future problems.
Our team at FSG Inspections uses precise diagnostic tools to detect and measure pollutants, allergens, and other contaminants. After our field investigation, we provide a clear and detailed testing report of indoor air quality at your Sanford FL property highlighting any issues observed. We may also recommend solutions to lower your indoor air quality problems.
Possible indicators of indoor air quality problems may encompass:
Health effects that manifest themselves after someone remodels a home or business.
Health effects that manifest themselves after pesticide has been used inside of a building.
Stuffy air
Condensation of surfaces
Mold growth
Large accumulations of dust on surfaces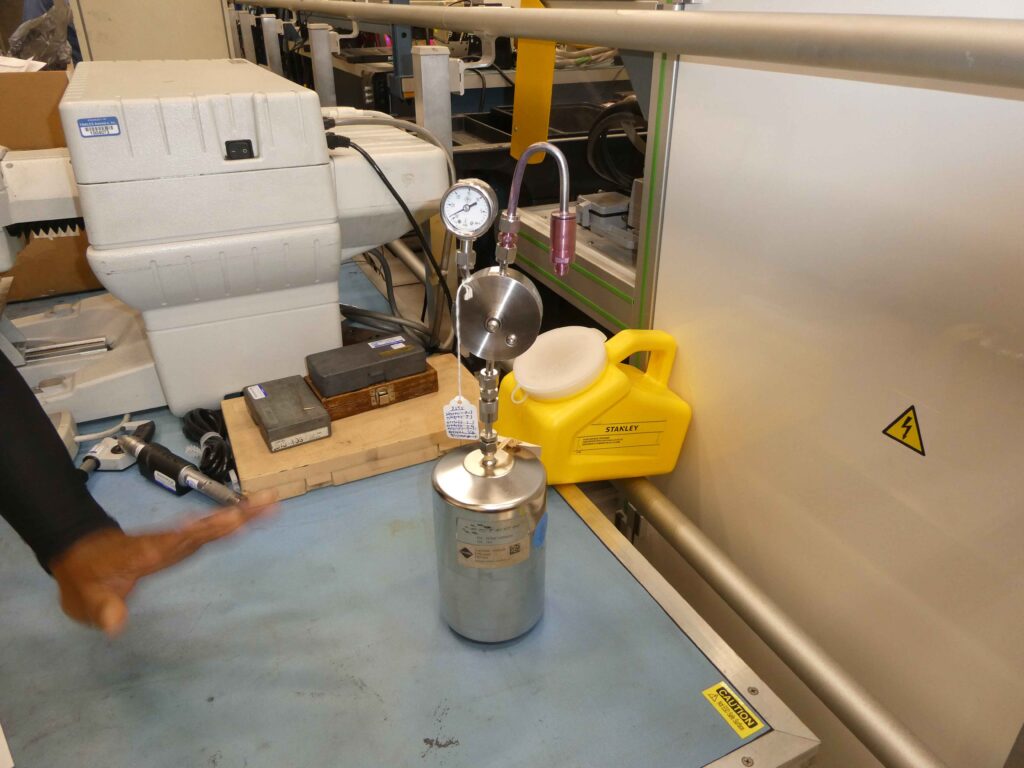 The health implications of poor indoor air quality range from mild allergies to more severe conditions. At FSG Inspections, our expertise and commitment to accuracy set us apart, delivering reliable results that can lead to healthier living and more enjoyable indoor working environments.
Choose FSG Inspections for precise, reliable indoor air quality testing in Sanford. Call
407-721-0594
or
Contact us now
to schedule an appointment and take the first step towards breathing clean and healthier air.
ATP Cleaning Verification Sanford FL
Sanford businesses and homeowners now have a reliable partner in ensuring the cleanliness and safety of their environments with FSG Inspections. Our ATP Cleaning Verification process stands as a testament to our commitment to provide only the best in professional services.
ATP, or Adenosine Triphosphate, is a molecule found in all living cells. Its presence on surfaces can indicate residual organic matter that may not be visible to the naked eye. Regular cleaning might reduce surface contaminants, but how certain can one be of true cleanliness? That's where our Sanford ATP Cleaning Verification steps in.

While many methods exist for evaluating cleanliness, ATP bioluminescence is the only method that combines quantitative data collection with scientific measurement and still delivers speedy results.
Speed– Real-time analysis yields actionable information in seconds.
Linearity– There is a direct, proportional, straight-line relationship between RLU and ATP.
Repeatability– There are dependable results with a low coefficient of variation (CV).
Sensitivity– The is an extremely low Limit of Detection (LoD) allowing for identification of low levels of ATP above background noise.
Accuracy– Based on a comparative study of commercial ATP Hygiene Monitoring Systems2, the ATP system used by FSG Inspections is the closest to 100%, thus the least variable and most accurate in the study.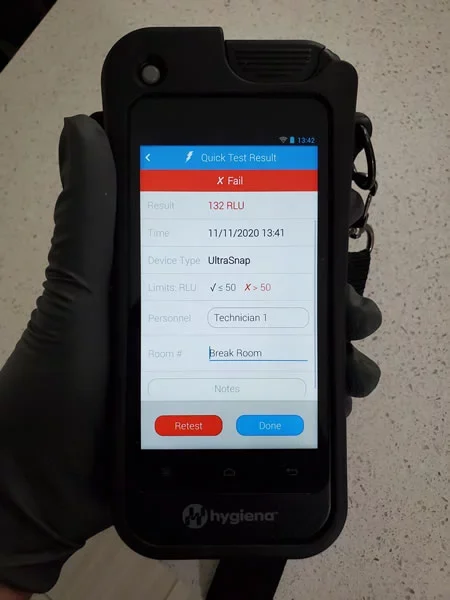 FSG Inspections utilizes an advanced ATP verification system, enabling businesses and homeowners in Sanford to confirm the efficacy of their cleaning protocols.
By utilizing advanced equipment that measures ATP levels, we can quickly identify surfaces that need additional cleaning or areas that may be potential hotspots for bacterial or organic buildup.
Such comprehensive verification offers peace of mind to facility managers, homeowners, and business operators. Whether you manage a healthcare facility, a food service establishment, or simply want to ensure your home's cleanliness, our Sanford ATP Cleaning Verification service offers undeniable value.
Choose FSG Inspections in Sanford for a detailed, trustworthy ATP Cleaning Verification. Your commitment to cleanliness deserves nothing less than our unmatched expertise.
Contact us today to schedule a consultation and experience the peace of mind that comes with knowing your cleaning efforts are truly effective.
Category 3 Water Damage Sanford FL
Water damage in any property can be distressing, but Category 3 water damage poses particular challenges. Often referred to as "black water," Category 3 damage involves water contaminated with harmful bacteria, fungi, and viruses.
The implications of such damage can be severe, making rapid response and expertise critical. FSG Inspections is the definitive choice for Category 3 water damage in Sanford. Category 3 water sources typically include sewage, seawater, rising water from rivers or streams, water from hurricanes, and ground surface water.
The immediate concern with this type of damage is the potential health risks posed by contaminants. Resolving the damage requires not just water extraction but also thorough remediation of contaminants in the space.
Water damage from a hurricane, flood, sewage back-up/overflow, or a leak with pooling water that was not caught for a substantial amount of time can cause Category 3 water damage in Sanford Florida.
Examples of Category 3 water can include, but are not limited to:
Waste line backflows originate from beyond any trap regardless of visible content or color.
Rising water from rivers or streams.
Other contaminated water entering or affecting the indoor environment, such as wind-driven rain from hurricanes, tropical storms, or other weather-related events.
All forms of flooding from seawater.
Sewage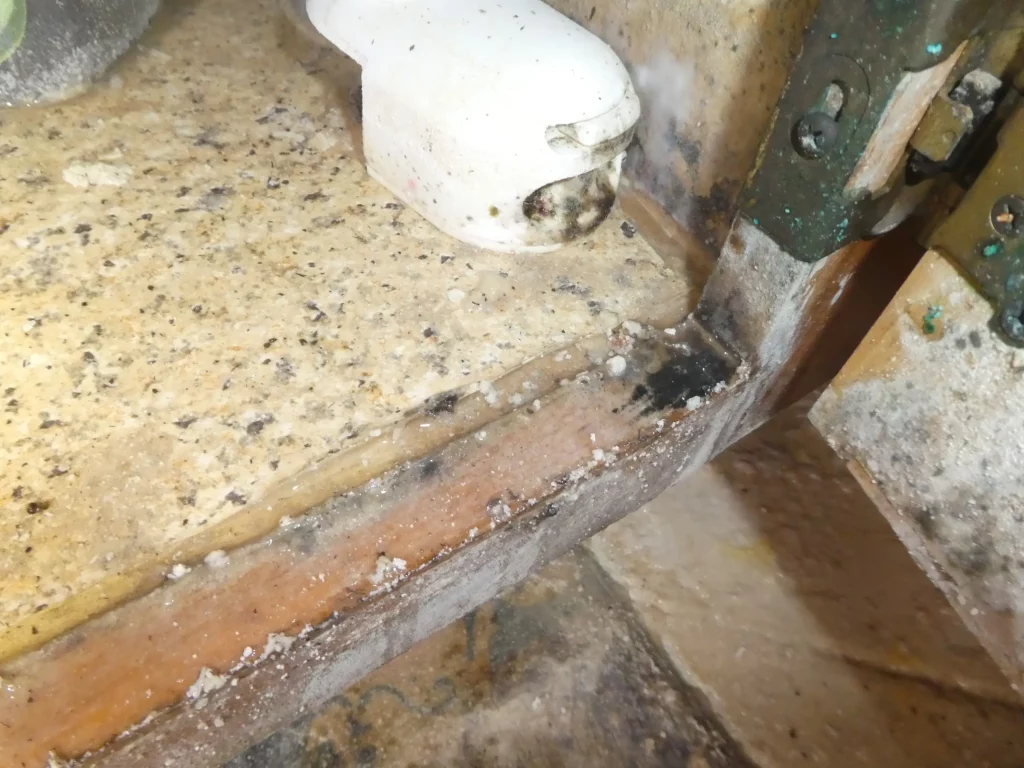 At FSG Inspections, we have a clear understanding of the nuances associated with Category 3 water damage in Sanford. Our team is trained to handle complex category 3 challenges, ensuring properties in Sanford are not just dry, but also clean and safe post-restoration.
We use specialized equipment to identify and document the extent of the Category 3 damage help to guarantee a comprehensive recovery process. With Category 3 water damage, there's no room for compromise.
Conact FSG Inspections today, or Call now at 407-721-0594 and let us handle the restoration process with our expertise and professionalism.
FHA VA Water Test Sanford FL
When it comes to home ownership, particularly for veterans and first-time homebuyers, ensuring the safety and quality of water in the residence is paramount. FSG Inspections stands as the premier choice for FHA and VA water testing services in Sanford, bridging the gap between federal standards and local expertise.
The Federal Housing Administration (FHA) and the Department of Veterans Affairs (VA) have laid out specific water quality standards for homes financed under their programs. FSG Inspections brings precision and meticulous attention to every water test we conduct in Sanford.
We offer two choices. The basic option is the version that is highly sought after for the underwriting of FHA/VA loans.
| | | | | | | | | | |
| --- | --- | --- | --- | --- | --- | --- | --- | --- | --- |
| BASIC | Total Coliform | E. coli | Lead | Nitrate | Nitrite | Turbidity | | | |
| BASIC PLUS | Total Coliform | E. coli | Lead | Nitrate | Nitrite | Turbidity | Iron | Manganese | PH |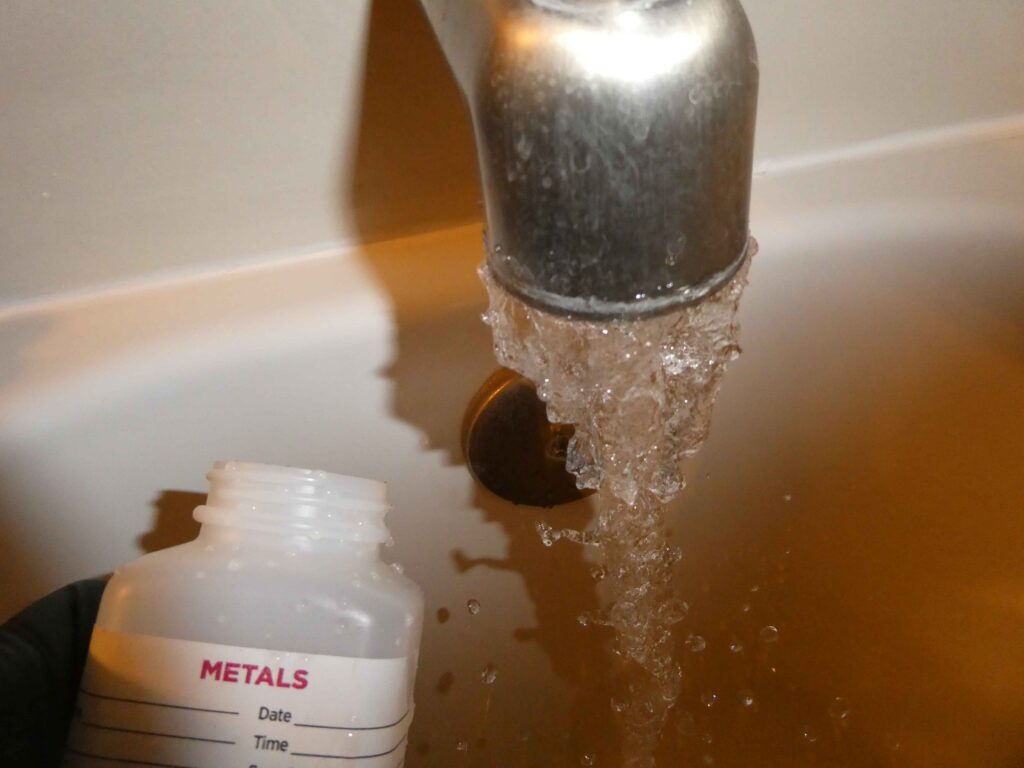 We employ testing methodologies that meet FHA and VA requirements, ensuring your home meets or surpasses the expected standards.
For Sanford homebuyers and homeowners aiming for compliance with FHA or VA loan requirements, FSG Inspections remains the benchmark.
There is a standard turn-around time of 2 days. For urgent cases, an expedited service can be requested with an additional laboratory rush fee.
Call us now at 407-721-0594 to schedule an appointment and take another step toward a successful loan approval and home purchase.
Water Leak Detection Sanford FL
Water leaks can often go unnoticed, leading to property damage, mold growth, and potential health risks. FSG Inspections is the trusted name for timely and accurate water leak detection in Sanford.
Whether it's a hidden leak within walls or a roof leak that your roofer hasn't been able to find, our expert team is equipped to identify and address the issue promptly.
Regular water leak detection is not just about preventing water wastage, it's about safeguarding your property's structural integrity and preventing potential mold growth or foundational issues.
FSG Inspections utilizes modern technology combined with years of field experience to provide unparalleled water leak detection services in Sanford.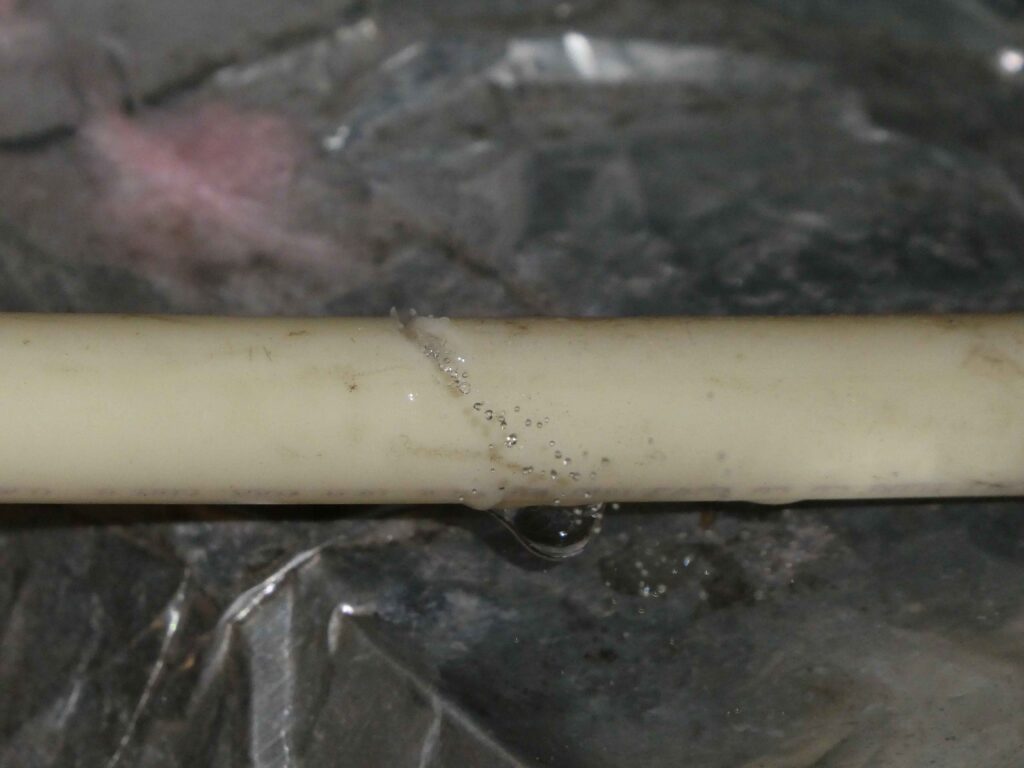 FSG Inspections Provide Water Leak Detection Services Across Sanford
FSG specializes in the detection of pressurized plumbing pipe leaks and structural leaks.
Structural leaks originate from water sources outside of a building (such as rain leak, ground water, and sprinkler head spray.)
Common structural leaks include:
Roof leaks
Exterior wall leaks due to stucco cracks, defective or damaged paint, and defective or damaged stucco/EIFS
Slab leaks from saturated soil or high water tables
Window leaks
Flashing leaks
Pressurized Plumbing Pipe Leaks
Pressurized plumbing pipe leaks originate from supply lines that feed plumbing fixtures.
Common pressurized pipe leaks include:
Pin-hole leaks caused by water chemistry, electrolysis, or manufacturing defects
Leaks at fittings that have failed
Awareness is the first step to prevention. By identifying leaks early, Sanford residents can avoid expensive repairs and ensure a safe living environment. FSG Inspections remains committed to delivering excellence in service, so that homes in Sanford remain leak-free and protected.
Our team identify leaks in your home or business and deal with them effectively. To schedule an appointment or find out more about how we can help, you can call us at (407) 721-0594.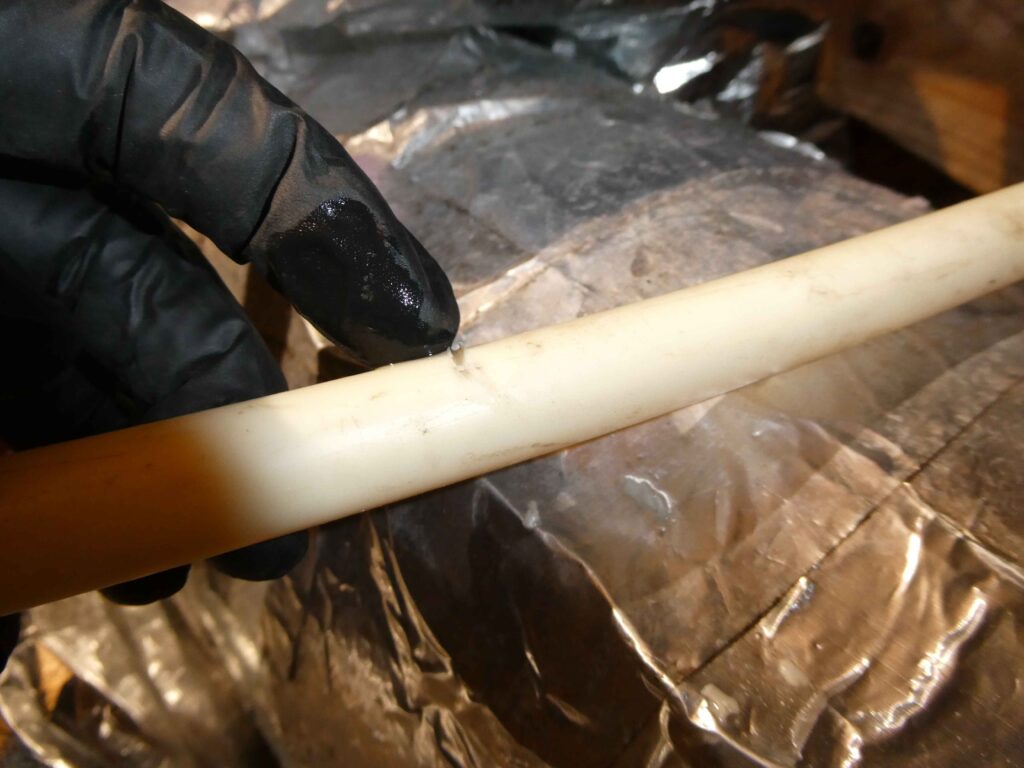 Thermal Imaging Sanford
Thermal imaging has revolutionized the field of property inspections, allowing for detection of issues that might remain invisible to the naked eye.
Whether it's identifying areas of heat loss, pinpointing moisture infiltration, or detecting electrical anomalies, thermal imaging stands as a non-invasive, efficient solution. FSG Inspections harnesses the potential of this technology to its fullest.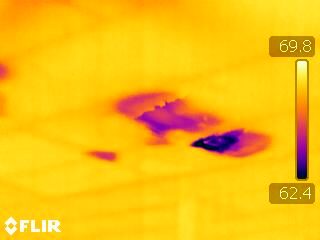 Our trained professionals utilize high-resolution thermal cameras to capture infrared images. These images, when analyzed, can highlight disparities in temperature that signal potential concerns like insulation gaps, water leaks, or electrical overheating. Regular inspections can help identify issues before they escalate, saving time, money, and potential future complications.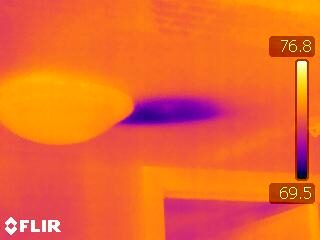 Rely on FSG Inspections in Sanford for your thermal imaging needs.
Contact us today to schedule your thermal imaging assessment in Sanford and take the first step toward a more secure future.